Canada warns over F35 fighter costs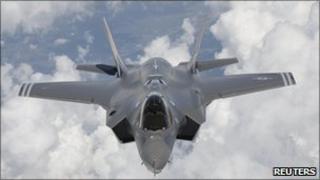 A new series of fighter jets Canada is set to purchase will cost more than initially budgeted, the Canadian defence department has warned.
Canada had planned to pay $75m (£45.6m) per F-35 Joint Strike Fighter plane, but officials told Canadian media the US has said production costs will rise.
Canada's defence department said it could absorb the increase.
The US is leading the development of the aircraft in partnership with Canada, the UK and six other countries.
The jet purchase would be the largest military purchase in Canadian history.
The single-seat, single engine stealth planes would replace Canada's aging fleet of C-18 Hornets, several of which have been deployed to the Nato no-fly campaign in Libya.
Prime Minister Stephen Harper's Conservative government has insisted in recent weeks it will pay $75m per plane price tag, though parliamentary budget officer Kevin Page has said cost overruns could drive up Canada's price to $148m per plane.
The top opposition Liberal Party opposes the project, and the discrepancy over the jet costs helped fuel a no-confidence vote last month that brought down Mr Harper's government.