New hearing for ex-Black Panther Abu-Jamal on death row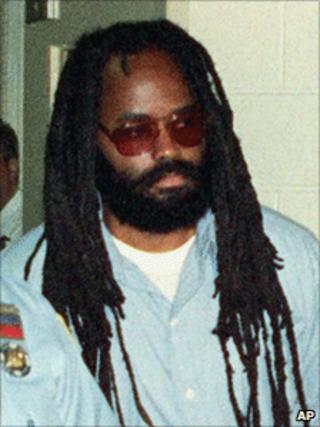 A US federal court has ordered a new sentencing hearing for an ex-Black Panther activist on death row for the 1981 killing of a white policeman.
An appeals court in Philadelphia said Mumia Abu-Jamal, 57, must have a hearing within six months.
He has been on death row since 1983 after his conviction in the killing of Philadelphia Officer Daniel Faulkner.
He has maintained his innocence, and death penalty opponents across the world have rallied around his case.
On Tuesday, the Third US Circuit Court of Appeals upheld its 2008 ruling that the death penalty instructions given to the jury at Abu-Jamal's 1982 trial were unclear, but it declined to overturn Abu-Jamal's conviction.
The appeals court was last year ordered by the US Supreme Court to review the case.
"Pennsylvania long ago abandoned the confusing and misleading instructions and verdict slip that were relied on in Mr Abu-Jamal's trial in order to prevent unfair and unjust death sentences," Judith Ritter, a professor at Widener University law school who argued the case in November, told the Associated Press.
"Mr Abu-Jamal is entitled to no less constitutional protection."
Abu-Jamal was a Philadelphia journalist, activist and co-founder of the Philadelphia Black Panther party.
In 1981, while working as a nighttime cab driver, he was arrested and accused of killing Officer Faulkner, who had stopped Abu-Jamal's brother for driving the wrong way down a one-way street before he was shot dead.
Abu-Jamal was found injured at the scene, shot with Officer Faulkner's gun. Officer Faulkner was dead, shot several times. A revolver registered to Abu-Jamal was found at the scene, along with five spent shell casings.
He was convicted the following year; supporters claim he was framed by police angry at his activism and reporting.
The case has riven Philadelphia, often on racial lines, and has garnered worldwide attention from anti-death penalty activists and other supporters who hold him up as a victim of racial injustice.
He and his supporters have fought his conviction and death sentence in the courts for decades.