Man arrested over Colorado pipe bomb incident at mall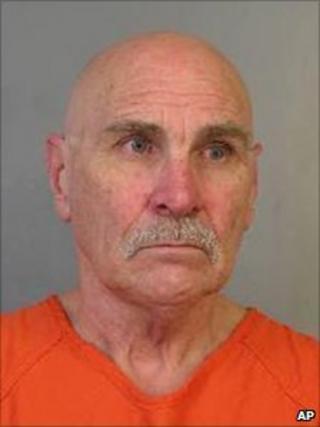 A man suspected of leaving a pipe bomb and propane tanks at a shopping centre in the US state of Colorado last week has been arrested, officials say.
Earl Albert Moore, 65, was apprehended in Boulder, police said, following a nationwide manhunt.
The explosives were found following a fire at the shopping centre, located in a suburb of Denver. No-one was injured.
The FBI previously said it was looking for Mr Moore after identifying him as a "person of interest" from CCTV footage.
'Previous sentence'
The fire broke out in a service hallway in Southwest Plaza Mall, near the food court, on Wednesday afternoon.
Firefighters discovered a pipe bomb and two propane tanks, which did not ignite, shortly afterwards.
A law enforcement source told CNN that Mr Moore was released from a federal prison one week before the incident.
He had been sentenced to 18 years in prison for a March 2005 robbery of Whitesville State Bank in Crab Orchard, West Virginia, according to federal court records cited by CNN. His sentence was later shortened.
Investigators said last week they were exploring a possible connection between the fire and the 12th anniversary of the Columbine school massacre, which was on the same day.
The mall in the town of Littleton is located close to Columbine High School, where two student gunmen killed 13 people and themselves in 1999.
However the FBI says it is unlikely to be related, AP reports.