Toronto 'webcam death' suspect appears in court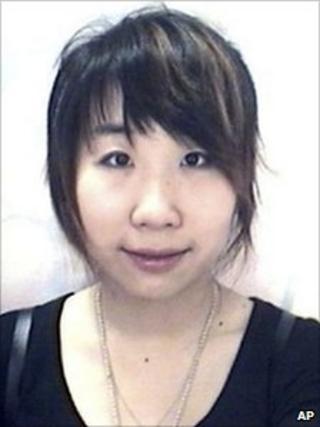 A man charged over the killing of a Toronto university student whose last moments were witnessed via webcam by her boyfriend in China remains in custody after a brief court hearing.
Brian Dickson, 29, was charged earlier this month with first-degree murder in the death of Qian Liu, a 23-year-old student from China.
Mr Dickson made his court appearance on Tuesday via video conference.
Ms Liu was found dead hours after an intruder interrupted her web chat.
An autopsy has failed to show how Ms Liu, a student at York University, died, and police have said it could be several more weeks until results of toxicology tests are known.
The authorities have not released many details regarding her death or possible motives in the case.
'Maintains innocence'
Steven Krys, Mr Dickson's lawyer, said it was early in the proceedings and the prosecution was still gathering facts and evidence in the case.
Mr Dickson, who stood in an orange prison suit for his appearance via video from a local jail, has not yet entered a plea, but Mr Krys said his client would deny the charges.
"He steadfastly maintains his innocence," Mr Krys said.
Ms Liu and her boyfriend were chatting at about 0100 local time (0500 GMT) on 15 April when a man unknown to the boyfriend knocked on the door asking to use Ms Liu's cell phone.
She let him into her basement flat and a struggle ensued for several minutes while the friend watched in horror, police said. The web chat was shut down, and Ms Liu's IBM laptop and webcam were apparently taken from the flat.
Ms Liu was found dead the next morning. Her body was naked from the waist down but investigators said they had found no obvious signs of sexual assault, and no evident trauma that could have caused her death.