Royal wedding: Breakfast parties in the US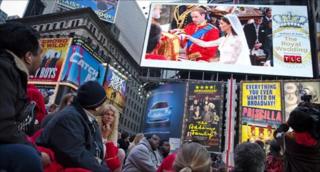 The US has a long-held fascination with the British royal family, and there had been huge anticipation across the country. So how did Americans mark the event?
It takes some dedication to get up in the middle of the night on a normal working day to watch another country's royal wedding.
But millions of Americans did just that, many of them saying the pageantry, romance and pure joyfulness of this very British occasion were too tempting to resist.
More than a dozen US television channels were broadcasting the event in the small hours, with their top talent, including familiar British names like Piers Morgan and Cat Deeley, holed up in London all week.
Some of the networks adjusted their tone slightly, to reflect the tragic events earlier in the week when nearly 300 people were killed by storms in the south-east US.
NBC's top anchor Brian Williams flew back to the US after arriving in London, to cover the storm story. But many people said the royal wedding was a welcome antidote to the terrible events.
In Washington DC, more than 200 Americans assembled in the grand surroundings of the Ritz-Carlton Hotel ballroom, where the dress code appeared to be Ascot-inspired.
Breakfast was served, including scones and clotted cream, English rashers of bacon and a specially commissioned blend of tea with ingredients sourced in Berkshire, the county of the newly-titled Duchess of Cambridge.
Wedding dresses inspired by her sense of fashion were on display, although more attention was paid to the sartorial elegance of three dogs which arrived dressed as bride, groom and best man.
The owner of the pug bride, Lady Lucy, was Mame Reiley, a 58-year-old political consultant from Virginia.
"Thirty years ago, I got up at 4am in the morning to watch Princess Diana get married," she said. "When her two boys walked into the Abbey, it took your breath away. She's definitely on everyone's minds today."
Lisa Deuschl, 47, was wearing a ring modelled on the one shared by the bride and Princess Diana.
"Every girl dreams of being a princess, swept off their feet by a Prince Charming. We know it will never happen to us but today we can pretend."
In New York, crowds watched the wedding on a big screen in Times Square, and the Empire State Building was due to be illuminated in blue, white and red in honour of the royal couple.
Over on the west coast, those who wanted to watch it live had to stay up late - the service in Westminster Abbey began at 0300 Pacific Time.
That failed to stop 300 guests, including many expats, filling The Cat and Fiddle, a British pub on Sunset Boulevard, Los Angeles. And the waxwork museum Madame Tussauds erected a big screen outside its Hollywood branch.
Other venues in California held replay parties on Friday lunchtime, re-running the events for those who valued their sleep.
The ceremony in London was the culmination of weeks of US media hysteria, covering every aspect of what it called "the wedding of the century" - tips on making English scones, the etiquette for high tea (keep the pinky finger up) and how to perfect a Kate Middleton hairstyle.
But not everyone was so wrapped up in royal fever. Hours after the wedding, historian Deborah Cohen, at Northwestern University in Chicago, said there was a discrepancy between the media coverage and the polling, which suggested a majority of Americans were not interested:
"There's a huge gender gap too, with women over the age of 40 the most interested. My students view the royals like any other celebrities."
A few media commentators said they were fed up with hearing about the wedding, and the event itself did pass some people by.
At The Clevelander, a sports bar in Cleveland, Ohio, accountant Bob Samson said he didn't even know it was on.
"It really has no impact on me. I went straight to work," he says.
A little more than 200 years ago, US President John Adams was deeply insulted to be called a monarchist, after the country had fought a bloody war against a British king.
But times have changed, and this was a day when - for many Americans - their love affair with British royalty truly blossomed.