US 'web suicide nurse' William Melchert-Dinkel jailed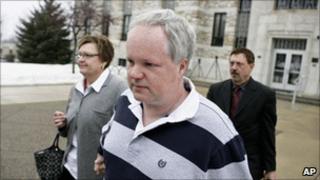 A US man who helped persuade an English man and a Canadian woman to commit suicide after finding them online has been given a jail term in Minnesota.
Ex-nurse William Melchert-Dinkel, 48, was convicted in March over the deaths of Mark Drybrough, 32, from Coventry, and Nadia Kajouji, 18, from Ontario.
The judge ordered him to spend an initial 320 days in prison and then for the next 10 years return to jail on the anniversaries of his victims' deaths.
His lawyer plans to lodge an appeal.
Melchert-Dinkel, who wiped away tears as he was sentenced, apologised in a statement read by his lawyer, Terry Watkins, and said he felt "shame and remorse".
The official sentence handed down by Judge Thomas Neuville was six-and-a-half years in jail, with most of it suspended unless Melchert-Dinkel violates the terms of his probation over the next 15 years.
The sentence was structured in such a way that he will have to spend two-day spells in prison on the anniversaries of the deaths of Mr Drybrough and Ms Kajouji over the next decade.
The judge said that while Melchert-Dinkel's actions were directly related to the victims' deaths, other factors were also involved.
The investigation began in March 2008 when a woman in Wiltshire in the UK alerted Minnesota police that a person had been encouraging people to take their own lives on an internet forum.
Ms Kajouji's mother, Deborah Chevalier, told the Associated Press news agency she was disappointed the sentence was not longer.
Melchert-Dinkel had faced a maximum jail term of 15 years on each count of aiding suicide.
During his trial, the court heard he was obsessed with suicide and hanging.
Prosecutors claimed he hunted down his victims on the internet for "the thrill of the chase" and gave them advice and encouragement, while posing as a female nurse.
US prosecutors said Melchert-Dinkel acknowledged having taken part in online chats about suicide with up to 20 people and entering into fake suicide pacts with about 10, five of whom he believed killed themselves.
Mr Watkins has said his client intends to appeal against the conviction on the grounds his remarks were shielded by the free speech protections of the US constitution.