Coventry family welcomes sentence after web suicides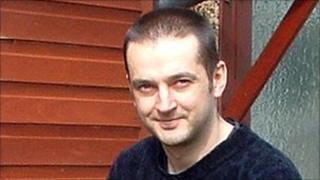 The family of a Coventry man who was encouraged to take his own life by a US nurse has welcomed his jail sentence.
William Melchert-Dinkel, who was given an initial 320 days in prison, posed as a suicidal female nurse on the internet to befriend 32-year-old Mark Drybrough.
Melchert-Dinkel, 48, of Minnesota, must return to jail on the anniversaries of his death and that of Nadia Kajouji, 18, of Ontario, for 10 years.
Mr Drybrough's family said they thought the nurse had "learnt his lesson".
'Reasonable sentence'
Rice County District Judge Thomas Neuville found Melchert-Dinkel guilty in March of aiding the suicides of Mr Drybrough and the 18-year-old Canadian, who died by jumping into a river in 2008.
Mr Drybrough hanged himself in 2005.
His mother, Elaine Drybrough, 62, said she thought it was "quite a reasonable sentence".
She added: "For someone who hasn't been in prison before, I should think a year in prison will make an impression.
"Somebody said to me, 'you must hate him', but I don't know really - it's difficult.
"I think there's more chance of him returning as a responsible working citizen with this shorter sentence."
Alert authorities
On Wednesday Melchert-Dinkel was sentenced to 320 days to serve from 1 June if he does not lodge an appeal.
The remaining 40 days are to be served in two-day stints over the following decade on the anniversaries.
Mrs Drybrough said: "It gives a message if there's other people doing that as well, that they don't necessarily get away with it."
She learnt of the correspondence between her son and Melchert-Dinkel's alias soon after her son's death and made repeated efforts to alert authorities in the UK and the United States before the death of Ms Kajouji.
Prosecutors said Melchert-Dinkel acknowledged having taken part in online chats about suicide with up to 20 people and entering into fake suicide pacts with about 10, five of whom he believed killed themselves.
Judge Neuville compared Melchert-Dinkel's conduct with stalking, describing it as calculated, intentional and fraudulent.
But he also said while Melchert-Dinkel's conduct was directly related to the deaths, he was not the sole reason they died.
Defence lawyer Terry Watkins had called his client's behaviour "sick" and "abhorrent", but argued that it was not a crime because he did not directly incite the victims to kill themselves.
He said Mr Drybrough had been ill for years.
Melchert-Dinkel was also fined 18,000 US dollars, about £11,000, and must pay restitution of 29,450 dollars (£17,850) to the parents of Ms Kajouji.
He will be on probation for 15 years with a suspended six-and-a-half year sentence and will also be banned from using the internet without approval.
Melchert-Dinkel signalled his intention to appeal on free speech grounds.