Seven charges against Allen Stanford are dropped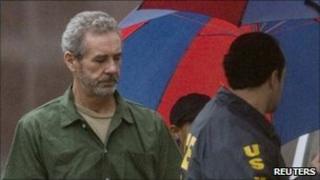 US federal prosecutors have dropped seven of the 21 charges against the Texas financier Allen Stanford.
But Mr Stanford could still face up to 20 years in prison if he is convicted of any of 10 remaining fraud counts.
Mr Stanford - who rose to prominence promoting Twenty20 cricket in the Caribbean - is accused of running a $7bn (£4.5bn) Antigua-based Ponzi scheme to defraud investors.
He has pleaded not guilty to fraud, conspiracy and obstruction.
A Ponzi scheme pays returns to investors out of the deposits of other investors.
A US federal judge ruled in January that Mr Stanford was unfit to stand trial.
He is currently in a hospital at the Butner Federal Correctional Complex in North Carolina, being treated for an addiction to anti-anxiety medication that he has developed while in prison.
Four co-defendants from the original indictment have also been removed. They will now stand trial after Mr Stanford.
No new trial date has yet been given.