Missing tourist Rita Chretien found alive in Nevada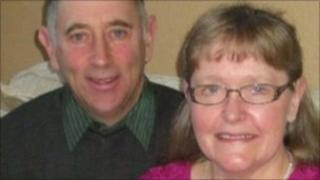 A Canadian tourist missing in a remote wooded area of the US state of Nevada for seven weeks has been found alive near her stranded vehicle by hunters.
Rita Chretien, 56, told police her van had got stuck in mud in mid-March, and that her husband Albert, 59, had gone to get help on foot.
She said she had survived since then on "trail mix" snack food and water.
Police abandoned the search for the couple in April but have now resumed the hunt for Mr Chretien.
The couple were driving from their home in Penticton, British Columbia, to Las Vegas, when they decided to go off-road to see the landscape in Elko County, one of America's largest and most sparsely-populated counties.
One of their three sons, Raymond Chretien, said the family was "stunned" that their mother had been found alive.
"We haven't fully digested it. This is a miracle," he told the Portland Oregonian.
He said his mother, who lost 20-30lb (9-14kg) during her ordeal and is now recovering in hospital, doubted if she would have survived another three days in the woods.
She had apologised for the worry she had caused her relatives, he added.
Officials said weather over the past month in the area where the couple got lost had included snow, rain and chilly temperatures.
"I don't believe they were prepared for winter weather," Raymond Chretien said. "They don't go camping."