Canada's Insite drug programme in supreme court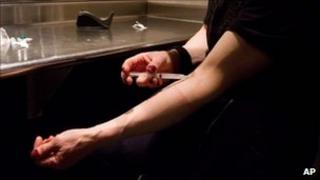 Canada's Supreme Court has begun hearing arguments on the legality of a "safe injection site" for addicts in Vancouver, which the federal government says facilitates drug use.
The founders of the taxpayer-funded site say it provides a form of healthcare backed by the constitution.
But the government says the facility, Insite, must still close because heroin is a federally banned substance.
The site provides clean needles and sterilised water to drug addicts.
Insite, which is the first and only facility of its kind in Canada, also staffs nurses who supervise drug abusers injecting themselves.
Stephen Harper's Conservative government took its request to close the facility to the British Columbia Court of Appeal in 2009.
The court ruled 2-1 against the government.
More than 60 injection facilities were in operation in 2009 in 26 other cities in Australia and western Europe, according to the Canadian Medical Association Journal.
The World Health Organization has said such sites are a "priority intervention" in reducing the spread of Aids through infected needles.
The case, being argued in Ottawa, has drawn international attention.