Billy Graham treated for pneumonia in hospital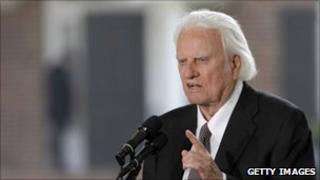 US evangelist Billy Graham has been admitted to hospital in North Carolina for treatment for pneumonia.
Doctors at Mission Hospital in Asheville said diagnostic studies showed Mr Graham's heart was normal.
"Appropriate antibiotics are being administered, and he is clinically stable at this time," pulmonologist Shaw Henderson said in a statement.
Mr Graham's doctor said the 92-year-old was resting comfortably, though no date had been set for his release.
The veteran preacher's spokesman, Larry Ross, said age-related conditions, like muscular degeneration and hearing loss, had kept Mr Graham at his home in the town of Montreat in the past several years.
For over six decades, Mr Graham has built up a mass following from across the Christian spectrum, counting US presidents past and present among his friends. Mr Graham gave his last sermon in 2005.