Obama seeks Robert Mueller FBI job extension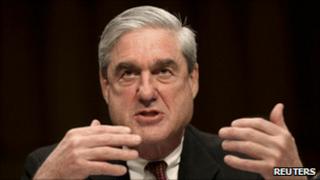 US President Barack Obama has asked Congress to extend the tenure of FBI director Robert Mueller for two years.
Mr Mueller's 10-year term is to end on 4 September, but Mr Obama said "continuity and stability at the FBI is critical at this time".
Mr Mueller was appointed by President George Bush in 2001 and took office a week before the 9/11 terror attacks.
Officials said no previous FBI director had been given an extension but they were confident Mr Mueller would be.
"Bob Mueller has set the gold standard for leading the Bureau," Mr Obama said in a statement.
"Given the ongoing threats facing the US, as well as the leadership transitions at other agencies like the defence department and Central Intelligence Agency, I believe continuity and stability at the FBI is critical at this time."
Other transitions
Mr Obama praised Mr Mueller's law enforcement and national security credentials, commitment to the law, and his integrity and independence.
Mr Mueller, 66, was previously US attorney in San Francisco. He was an officer in the US Marine Corps and was decorated for his service in Vietnam.
Recent US media reports suggested that the White House had begun searching for a replacement.
Mr Obama has appointed CIA director Leon Panetta to replace defence secretary Robert Gates, who is set to retire in June. He has named Gen David Petraeus to replace Mr Panetta at the CIA.