Louisiana flooding: Calm before storm in Butte La Rose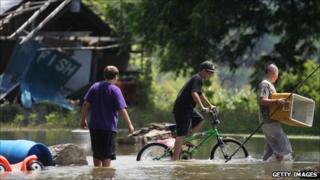 For people living in Butte La Rose, Louisiana, below the Morganza Spillway, the clock is ticking. As the flood-gates open to prevent flooding in big cities, it is all but certain that residents here will lose everything. The BBC's James Gordon has spoken to those who have chosen to stay and try to ride out the flood.
In Butte La Rose, Louisiana, it is the calm before the storm.
The weather is as still as can be with just the sounds of birds tweeting in the trees and crickets in the thick swamps with their mating calls.
It almost seems like a cruel joke that people are preparing for the floodwaters that will arrive in just a couple of days.
The village is virtually deserted, with just the local store one of the few signs of life.
The media were here last weekend with warnings the tiny town would be washed away.
Mildred Roberts, who works in the local store, does not believe all the hype. "We got a little scared last weekend," she tells me with a smile.
"The news is good and we're optimistic that it's not going to be as bad as we thought it was going to be. I was born and raised here. We're used to this. It's nothing new for us."
'No compensation'
It was an appalling choice for the government to have to make: diverting the Mississippi River means the big cities of New Orleans and Baton Rouge will be spared from catastrophe, while launching thousands of personal tragedies across the state.
The plan involves opening the flood-gates on the Morganza Spillway, about 50 miles (80km) north of Butte La Rose.
The spillway stands above the Mississippi's normal water level and comes into play only when the river is already swollen and endangering the surrounding areas. The last time the flood-gates were opened was in 1973.
So far only a portion of the 125 flood-gates have been opened, and officials say the peak water flow is not expected for another week.
By using the spillway, engineers are able to control the flow of the floodwaters, diverting them around Baton Rouge and into the Atchafalaya River, where Butte La Rose stands.
This neighbourhood, like so many others in danger, is not directly in the path of the Mississippi but it is one of those sacrificial towns preparing for deliberate flooding in order to save the larger towns and cities.
Some 25,000 people live in the floodwaters' potential path across three million acres of land.
The Army Corps of Engineers told Butte La Rose's 1,000 residents they could be under 15ft to 20ft (4.6-6m) of water by the weekend, which would leave only the rooftops of buildings visible.
The realisation that that prediction would probably come true led to a mass exodus of people from the town.
The US Army Corps of Engineers says it does not believe people living in the area will be compensated even if their homes and farms are flooded.
Every year officials send out a letter warning residents that they live in the spillway area. It is a known risk and something that the residents have chosen, the letter says.
Those farmers who have crop insurance and whose crops have been damaged by the flooding will be eligible for pay-outs.
But a good number of those whose homes are about to be submerged have already signed insurance waivers.
Thirty-eight years have passed since the area was faced with a similar dilemma. For many, living on a flood plain was a risk worth taking to own a slice of Cajun country.
Over the past week, people have been covering their homes in sandbags and giant plastic sheets as the river rises.
Inmates from the county jail have been drafted in to help seal every last crack.
Crews are doing their best to shore up what flood defences exist.
Staying put
The place is now a ghost town. Any semblance of daily life has come to a halt with nothing else to do but wait.
There are some who are refusing to leave their homes.
Wayne Magnum, like so many other Cajuns, came to this hideaway to drift through the hidden waters catching crawfish. He's one of a handful of locals who remain.
"I ain't leaving," he says, as he casts his fishing rod back into the lake. "I live here. I've got a boat. I can get out if I have to."
His home will probably be flooded in the coming days but he remains stoical about what lies ahead.
"Everybody takes care of everybody down here. We're Cajuns. We're from here. We deal with it. We'll come back. We can rebuild. We enjoy our land down here sitting on the porch, drinking a few beers.
"Mother Nature gives and Mother Nature takes. You've just got to learn to accept her. Now she wants part of it back."
The choice for people in these rural communities is a difficult one. They love the land where they live and their homes are often all they have.
For the residents of Butte La Rose, time is running out.