Oprah Winfrey: 10 moments that made her
By Tom Geoghegan
BBC News, Washington DC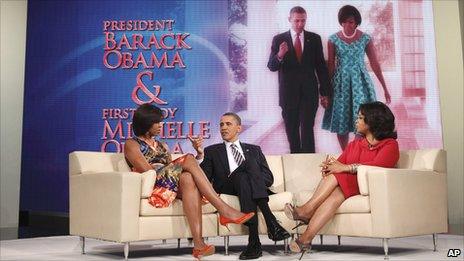 One of the most-watched programmes in US history, The Oprah Winfrey Show, is ending after 25 years. But the impact of its hostess goes far beyond television.
Her first episode, entitled How to Marry the Man/Woman of your Choice, suggested this was to be a daytime show like any other.
But some 4,560 episodes later, the likes of Madonna, Beyonce and Tom Hanks have been lining up to appear at her farewell show, which is broadcast on Wednesday.
During those 25 years, Winfrey has become a household name, a cultural phenomenon and one of the richest people on the planet.
As she signs off to continue work on her own cable channel, her ability to get the newsworthy guests appears undiminished.
This month, President Obama talked about why he felt the need to publicly produce his own birth certificate. And Sarah Ferguson spoke about not being invited to the royal wedding.
So how has Winfrey been such a success? Ten moments sum up her influence.
MAKES HER SEXUAL ABUSE CLAIM, 1986
In the kind of confession that later became her show's modus operandi, Oprah said to her audience that she was raped when a child.
Not only did it begin her own unofficial campaign for victims of abuse, it also paved the way for a string of people - the famous with an addiction, the ordinary with a story to tell - to sit on her sofa and confess.
Author Bonnie Greer, who left her hometown of Chicago in the year that Oprah began her ascendance in the city, says: "She has made mainstream that warm but tell-it-like-it-is persona of the African American woman.
"It has always been there in American culture, but Oprah brought it onto TV in the afternoon. She pioneered 'victim' culture in the good and the bad sense.
"She tapped into, in a time of the recession of the late 80s and early 90s, something that Americans needed reassuring about: our survival mechanism and our goodness.
"Oprah passed out the things of this world to her audience because she wanted to demonstrate that 'goodness' and 'honesty' has its rewards here on earth."
Wearing her size 10 jeans, a slimmed-down Winfrey pulled a wagon of fat on to the stage to represent the 67lbs she lost in four months by eating nothing but Optifast.
But the weight crept back on and it was the start of two decades of yo-yo dieting and battling the bulge.
Tim Teeman, US correspondent for the Times newspaper, says: "If Oprah will be remembered for anything, it will be her body shape, which mirrored America's obsession with its own body shape.
"You could say it doesn't give out the right message but it does give out the real message. The way Oprah did weight is a real reflection on people's own struggles with it."
Winfrey's largest television audience came when she interviewed Michael Jackson at the height of his fame.
About 62 million viewers were taken inside Neverland to reveal a man who seemed to be trapped in childhood, before the child abuse allegations that ruined his reputation.
During the 90-minute interview, he told her he suffered from a skin-pigment disorder and he denied sleeping in an oxygen chamber and buying the bones of the Elephant Man.
It was the first time Jackson had spoken at length in many years and it was considered a huge coup for Winfrey's show, making headlines around the world and helping to cement her growing reputation.
As well as underlining Winfrey's reputation as confidante-in-chief, it also relaunched the career of DeGeneres, who went on to host her own chatshow.
Winfrey's inspiration to other women has been much debated.
"She is feminist in that she has made her own empire and her example has caused other women to do the same," says Greer.
"She is clearly a force of nature, very intelligent and savvy and has done some good. Everyone wishes her well, and so do I.
"But she has levelled the public discourse to the level of soap opera in which there is ultimately nothing but good and evil."
Despite her admissions about weight and abuse, and her ability to get others like DeGeneres to open up, it is surprising how little we know about Winfrey herself, says Greer.
"Everybody close to her is locked down. Omerta. She is the one public figure in America that we know everything about and nothing. Quite a feat in the land of free speech."
All 276 members of the studio audience went home with a Pontiac car, complete with heated leather seats, worth $28,400 (£17,200).
It was a huge deal, says AOL television critic Maureen Ryan, formerly of the Chicago Tribune, because it marked the start of Winfrey's fairy godmother period, showering her audience and guests with gifts.
The show had already evolved into one marked by a New Age spirituality, she says, but this took it in a more materialistic direction.
In post-Katrina New Orleans, this altruism was an obvious force for good, as Winfrey seemed to be able to do more than the authorities in helping those in need, says Ryan. But the constant gift-giving became a bit of a turn-off.
"You would tune into Oprah's Favorite Things [the annual product giveaway] and the hysteria was like the Beatles at Shea Stadium, because people were going to get all these free things from Oprah."
Maybe the most memorable Oprah moment was Tom Cruise in a fit of giggles, jumping up and down on her sofa as he proclaimed his love for new girlfriend, Katie Holmes, now his wife.
His antics have since been mocked, dissected and parodied. This is the moment that defines his career, ahead of Top Gun, Cocktail or Mission: Impossible, says Teeman.
"Oprah looked absolutely terrified, thinking 'What is he doing?' His career did plummet for a while but he has come back."
Celebrities go on Oprah to expel a demon or make a confession of love, he says, and they know she won't give them a hard time because it's a love-in.
"It should have been an open goal for Tom Cruise but it became a train wreck."
One of Winfrey's most profound influences has been in the world of publishing, with her book club credited with making millions for authors whose books appear in it.
Nowhere was her power more brutally wielded than in the case of James Frey. His gritty memoir A Million Little Pieces, which told the story of his recovery from drug addiction, became a bestseller after featuring on her show.
But in 2006, after doubts were cast on how faithful Frey had been to events in his own life, Winfrey invited the author back for questioning, which led to a fiery exchange and Frey's public dressing down.
Despite Winfrey recently expressing some regret about how she handled it, the lesson here is not to cross her, says Teeman. Her show is all about goodwill, and the price for betraying that trust is humiliation.
Winfrey's Leadership Academy, near Johannesburg, was opened in 2007 at a cost of $40m (£25m).
She had pledged to build the academy after meeting former South African President Nelson Mandela in 2002. Winfrey personally interviewed many of the South African girls from low-income families who applied for the initial 150 places at the school.
Last year, the former matron of the school was cleared on charges of abusing girls there.
Winfrey expressed her disappointment at the verdict but said she was proud of the girls for having the courage to testify.
Her philanthropy is famed, and her Oprah Winfrey Foundation has donated millions of dollars to projects in the US and abroad, while her public charity Oprah's Angels has raised about $80m (£50m).
At a rally in Iowa in 2007, Oprah Winfrey gave her support to Barack Obama who at the time was vying for the Democratic presidential nomination with Hillary Clinton.
Winfrey's backing was viewed as highly significant in a closely fought contest because of the huge influence she wields. But her choice was questioned.
"When she backed Obama for president her audience, which is middle-aged white women, supported Hillary Clinton and so she found a lot of push-back by people who thought she was choosing her race ahead of her gender," says Eric Deggans, TV critic of the Petersburg Times in Florida.
Her immense popularity in the black community took a knock when she condemned rap music for its misogynistic lyrics.
She has always walked that tightrope of being authentically black but not so much to turn off the mainstream audience, says Deggans.
But Winfrey has showed, in the same way as Bill Cosby did before her and Barack Obama afterwards, what is possible for an African-American.
"By reaching such heights in television, Oprah has shown you can become an iconic figure as a black person.
"She became a voice for middle-aged white women in a way that no-one else has, and for black people to see an African-American accepted so wholeheartedly is very important."
The recording of one of Oprah Winfrey's final shows at the United Center in Chicago became a night filled with tears, appreciation and A-list celebrities such as Tom Cruise, Will Smith and Madonna.
"A clear part of her appeal has always been someone who collects star friends," says Deggans.
"The thing about Oprah that's really interesting is that she has been able to create this brand that is an embodiment of many contradictions.
"She's your down-to-earth friend whose pals are Julia Roberts and Tom Cruise. She's the spiritual leader who is a workaholic and does an episode a year about all the expensive stuff she loves.
"She's a spiritual leader who doesn't choose a specific church. She's a woman who stands up for motherhood and family values but doesn't have kids."
These contradictions appeal to women, he says. "They appreciate the fact they can turn on Oprah and see someone who seems like their best friend but gives them access to this amazing world."