Teeenager dies in Ottawa school explosion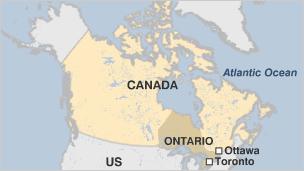 A Canadian teenager who was injured in an explosion at an Ottawa school has now died, local officials say.
Eric Leighton, 18, was taken to hospital in critical condition after the blast at the Mother Teresa Catholic High School but died just hours later.
Four other students and a teacher were also taken to hospital.
The explosion at 1040 local time (1440 GMT) is believed to have been caused by oil residue in an empty drum, which was in a workshop at the school.
The school - in the Ottawa suburb of Barrhaven - was evacuated and its 1,400 students were taken to a school nearby, CBC news reported.
A police investigation is under way.