Ben Cohen's anti-bullying push in US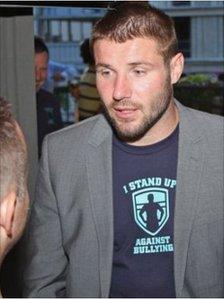 England rugby star Ben Cohen is using his huge gay following in the US to highlight his campaign against homophobic bullying.
The married World Cup winner, recently retired, is visiting four cities in two weeks to promote his StandUp charity.
Hundreds of men have flocked to his fundraising events, organised with the help of gay-friendly rugby clubs.
Sport and sexuality is being hotly debated in the US after two basketball players were fined for saying "faggot".
Joakim Noah received a $50,000 (£30,400) penalty for directing the slur at a fan, while Kobe Bryant was fined $100,000 (£60,800) for a similar outburst in April.
"It sends out the wrong message - that it's fine to call people names," Cohen said as the tour's third leg in Washington DC ended.
While a rugby World Cup winner has little currency in the US, the father of twins does have a profile in the American gay community.
His Facebook page has 150,000 fans, many of whom are men living in the US.
It was some of their stories of prejudice and isolation - leading to suicidal thoughts in some cases - that drew him to this issue a few years ago.
"People were sending us e-mails and it came with a sense of responsibility," he said.
"I might be straight but I understand the mental scarring you can suffer from people being bullied and a tragedy happening."
In 2000, Cohen's father died after being beaten when he stepped in to protect one of his employees in a dispute.
"We are trying to stop bullying across the board but especially in the LGBT (lesbian, gay, bisexual and transgender) community."
Sport should tackle homophobia in the same way that football tackled racism, Cohen said, with tough penalties for offenders.
The US trip has included educational visits and rugby coaching sessions at schools and universities.
And the job of raising awareness and money has focused on gay nightclubs and the media, even including an appearance on a reality TV show.
The so-called Acceptance Tour began in April in the UK.
Related Internet Links
The BBC is not responsible for the content of external sites.