Arizona illegal immigrant law backed by Supreme Court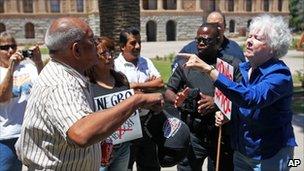 The US Supreme Court has upheld a law in the state of Arizona that imposes penalties on businesses that hire illegal immigrants.
It rejected the argument made by a coalition of business and civil liberties groups that the 2007 law conflicted with federal policy.
Chief Justice John G Roberts said that seven states had recently enacted similar laws.
A recent Arizona law widening police powers of search was not considered.
The older law subject to Thursday's ruling, the Legal Arizona Workers Act, was challenged by the Chamber of Commerce and the American Civil Liberties Union, with the backing of the Obama administration.
It was intended to tackle the problem of immigrant smuggling by requiring employers to check the status of new workers through a federal database.
Employers found to have violated the law can have their business licenses suspended or revoked.
Chief Justice John Roberts said the law "falls well within the confines of the authority Congress chose to leave to the states".
The implications of the ruling could be felt beyond the borders of Arizona.
Jay Sekulow, chief counsel of the conservative American Center for Law and Justice, said the decision may mean that other states now play a bigger role in immigration issues.
The more controversial and recent law governing police powers provoked much criticism, amid concerns it would lead to the racial profiling of Hispanics and force legal immigrants to carry papers.
The Court of Appeals for the Ninth Circuit has blocked enforcement of that law and the case may reach the Supreme Court.