Martin Dempsey named new joint chiefs head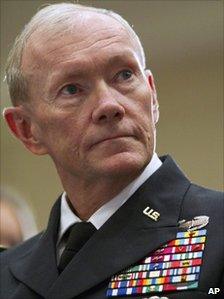 Gen Martin Dempsey has been nominated as the new chairman of the joint chiefs of staff, the highest US military post.
A veteran of the Iraq war, Army Chief of Staff Dempsey will succeed Navy Admiral Mike Mullen as the president's top military adviser on 30 September.
President Obama made the announcement in the White House garden but it is subject to Senate approval.
Obama has also named Adm James Winnefeld, the head of the US Northern Command, to serve as vice chairman.
Gen Ray Odierno was nominated to replace Gen Dempsey as the Army's chief of staff.
In naming Gen Dempsey, the president described him as "one of our nation's most respected and combat-tested generals".
If confirmed by the Senate, the general would be the top adviser as the scaling down of US forces in Iraq continues and troops in Afghanistan begin to come home later this year.
The BBC's Jonny Dymond, in Washington, says General Dempsey is understood to be wary of hi-tech projections of future military needs; his experience in counter insurgency has led him to place a premium on boots on the ground.
But his biggest challenge may be more prosaic, our correspondent adds. Defence consumes around 20% of the federal budget and from across the political spectrum there is a demand for cuts.
General Dempsey would be involved in establishing priorities for cutting the defence budget, working with the incoming Defence Secretary Leon Panetta, an appointment that also requires confirmation from the Senate.
Dempsey only just began his four-year tenure as Army chief of staff in April, but he has extensive experience.
His time in combat includes serving as the commander of the 1st Armoured Division in Baghdad in 2003 and helping to train Iraqi security forces in another tour.
He also served as acting commander of the US Central Command, overseeing US military operations in the Middle East, Persian Gulf and Central Asia.
Defence Secretary Robert Gates, who retires this year, praised all three appointments.
He said: "They possess the right mix of intellectual heft, moral courage, and strategic vision required to provide sound and candid advice to the president and his national security team."
The Joint Chiefs of Staff (JCS) is based at the Pentagon in Virginia and advises the secretary of defence, the Homeland Security Council, the National Security Council and the president on military matters.
Related Internet Links
The BBC is not responsible for the content of external sites.