Iraqi pair arrested on terror charges in Kentucky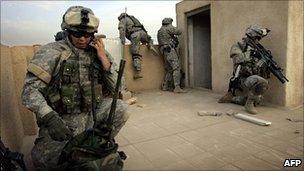 Two Iraqi men have been arrested in the US state of Kentucky, over allegations they planted explosive devices targeting US troops in Iraq.
Waad Ramadan Alwan, 30, and Mohanad Shareef Hammadi are also accused of conspiring to send missiles to Iraq.
The pair, former Iraqi residents who now live in the city of Bowling Green, appeared in court on Tuesday to hear the 23 counts against them
"Over the course of roughly eight years, Waad Ramadan Alwan allegedly supported efforts to kill US troops in Iraq, first by participating in the construction and placement of improvised explosive devices [IEDs] in Iraq and, more recently, by attempting to ship money and weapons from the United States to insurgents in Iraq," said Todd Hinnen, Acting Assistant Attorney General for National Security.
He said co-defendant Mohanad Shareef Hammadi was accused of "many of the same activities".
The charges include conspiracy to kill US nationals abroad, conspiracy to use a weapon of mass destruction against US nationals abroad, distributing information on making and using explosive devices, and conspiracy to export Stinger missiles, the Justice Department said.
The pair would face a maximum sentence of life in prison if they were convicted.