Conrad Black: US Supreme Court rejects appeal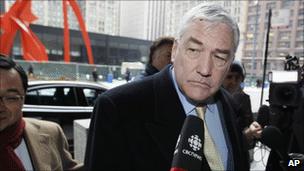 The US Supreme Court has rejected former media tycoon Conrad Black's appeal against his convictions for fraud and obstruction.
Black was freed from prison last year after the court separately found unconstitutional an anti-corruption law he was convicted of violating.
On that ground, in October a federal court reversed his conviction on two other fraud counts. But it left in place two counts on which the Canadian-born British peer is due to be resentenced in June 2011.
On Tuesday, the US Supreme Court without comment rejected Black's appeal against his conviction on the two counts that had not been overturned.
In a statement, Black said he was not surprised by the decision and vowed to keep fighting.
In July, Black was released on a $2m (£1.3m) bond more than two years into a six-and-a-half year term.
He once controlled a media empire that included the Daily Telegraph, the Chicago Sun-Times and other newspapers in the US and Canada.
But in 2007, he and three other Hollinger International executives were convicted of defrauding shareholders of $6.1m.
Prosecutors said Black defrauded investors by paying himself a tax-free bonus from the sale of newspaper assets without the approval of the company's board.
Black's convictions rested partly on the idea that he had deprived his former company, Hollinger of his honest services as a corporate officer.
In June 2010, the US Supreme Court found that "honest services" law unconstitutionally vague, ruling the law could apply only to cases where bribes and kickbacks had changed hands.