Hookah smoking lounges face curbs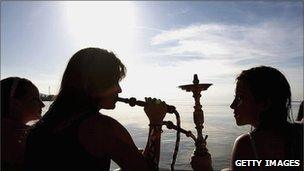 A campaign is growing in the US to put the regulation of hookah smoking in public spaces on a par with cigarette controls.
If exotic-looking cigarette lounges that extolled the pleasures of flavoured tobacco suddenly appeared on US streets, health-conscious Americans would be demanding action from the authorities.
According to a New York Times article this week, legislators, college administrators and health advocates from California to Connecticut are taking action against what many of them call the newest front in an ever-shifting war on tobacco.
Gayle Slossberg, a state senator in Connecticut who is backing a local bill to control hookah lounges, believes many young Americans do not appreciate the health risks.
"They think that because it is smoking over water it is somehow just not going to harm them in any way," she told the BBC World Service.
However, for Connecticut student Erin Biel, the hookah means a chance to relax without having resort to alcohol, and the Yale University student says she can control her consumption.
They come to smoke but also to play cards and board games, listen to music, watch TV.
"We've seen a great rise in our state, and across other states, in hookah smoking in hookah lounges and they are targeted towards our young people," Senator Slossberg told the BBC.
She accepts many users only use the water pipe occasionally but points to the cigarette comparison - "like smoking five packs of cigarettes in one hour".
Her bill, approved for voting by the Connecticut General Assembly's public health committee in April, would build on Connecticut's current ban on smoking in public places such as restaurants.
It would stop any new hookah bar opening after 1 July while existing hookah bars would be allowed to continue operations until new health regulations come into effect on 1 July 2013.
For Ms Biel, the bill seems to have "almost come out of mid-air", unaccompanied by any public health awareness campaign.
She occasionally visits two hookah bars in New Haven, where Yale is located, but generally she smokes the hookah with her friends late at night in dorm rooms, as a way to relax and "spur conversation".
There is an attractive cultural element to the pipe, she points out: "We smoke it in our dorm rooms because we end up buying hookahs when we go abroad, so it's kind of something nice that we bring back from our travels too."
The strict teetotaller says she smokes the hookah "in a very self-regulated manner".
But the US government health warning is very clear: "Hookah smoking is not a safe alternative to smoking cigarettes."
Boston and Maine have already ended exemptions in indoor-smoking laws that allowed hookah bars to thrive.
Related Internet Links
The BBC is not responsible for the content of external sites.