Republican fireworks seek to catch attention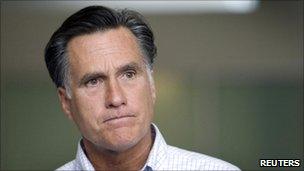 I am in New Hampshire waiting for Mitt Romney to excite me.
All the polls show he is the front runner to become the Republican's candidate for president, and he's formally lighting the blue touch paper in this important state.
Our surroundings suggest he is still popular with the Republican establishment here, who see him as a serious candidate who can win over independents in this open primary.
But there are a number of problems that could make the launch sputter and fade.
For many Republicans, the main problem is that he introduced a healthcare scheme in Massachusetts when he was governor that looks like a blueprint for President Barack Obama's very own plans, so detested by conservatives.
But for me, the problem is just a lack of fireworks. Maybe a presidential race shouldn't be about whiz and bang. But, in part, it is. Some Republicans seem to feel this too.
Sarah Palin's magical mystery tour of America's most historic sites does not prove anything more than she's a tireless tourist.
I've been to Mount Vernon several times, but it doesn't make me ready to be leader of the free world.
The idea behind the tour is, on the surface, clever but will prove too postmodern for its own good.
Lots of lovely pictures and no awkward speeches to be parsed by the press, nothing to offend, just a wholesome image that nearly every American can warm.
The trouble is, that while a picture is worth a thousand words, and the words it evokes are beyond the control of the person in the picture.
To those who are fans already, the text in their heads will be word perfect for Palin.
For those who suspect patriotic pictures are intended to disguise a vacuum, it will confirm their fears.
And she needs to make converts not just shore up the base if she is serious about becoming president.
Of course, we are not sure that she is serious, or even that she will be a contender.
Perhaps it is true that she aims to be the ultimate king maker, the spirit of conservatism, hovering above the cut and thrust of real politics ready to anoint a lucky candidate.
More serious by far is Chris Christie's intentions, pondering anew.
It has been said that senior Republicans are pleading with him to run. Maybe he will helicopter in at the last moment. And you won't get any fat gags from me. But for the moment, I'm watching Mitt, to see if he can sparkle.