Hassan Diab: Canada allows bomb suspect's extradition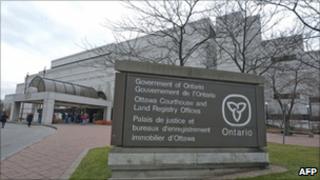 A Canadian judge has approved the extradition to France of a man charged in a deadly 1980 bombing outside a Paris synagogue.
Lebanese-born Canadian Hassan Diab was arrested in 2008 at the request of French authorities.
France says Mr Diab was a member of a Palestinian militant group and planted a bomb that killed four and wounded 40.
Mr Diab denies the accusation and has pledged to appeal against the extradition order.
On Monday, Ontario Superior Court Justice Robert Maranger ruled Mr Diab could be transferred to France. The final decision rests now with Canadian Justice Minister Rob Nicholson.
Mr Diab's lawyer René Duval requested he be granted bail until his appeal can be heard.
French authorities say Mr Diab, who has taught sociology at two Ottawa universities, was a member of the Popular Front for the Liberation of Palestine.
He is accused of making a bomb and it in a motorcycle outside the Copernic Street synagogue in Paris on 3 October, and is charged in France with four counts of murder, several counts of attempted murder and destruction of property.
Mr Diab was arrested in Ottawa in 2008 on an international arrest warrant issued by the French. He has said investigators are mistaken and he was not in Paris at the time of the attack.