Barack Obama: 'I would resign if I was Anthony Weiner'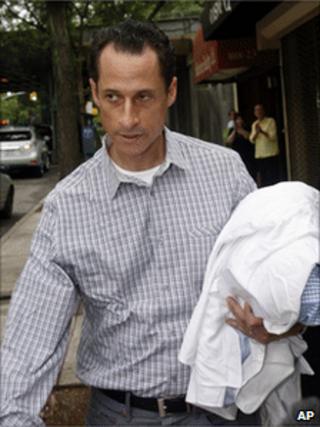 US President Barack Obama has said he would resign if he were in the position of Anthony Weiner, a New York congressman who has admitted sending lewd photos of himself to women online.
In an interview with NBC, Mr Obama said Mr Weiner, who is married, had "embarrassed himself".
A growing number of Mr Weiner's Democratic congressional colleagues have called for him to quit.
He has taken a leave of absence, but says he will not step down.
'Should step back'
"I can tell you that if it was me, I would resign,'' Mr Obama told NBC's Today programme.
"When you get to the point where, because of various personal distractions, you can't serve as effectively as you need to, at the time when people are worrying about jobs, and their mortgages, and paying the bills - then you should probably step back,'' the president said.
But Mr Obama said it would be up to Mr Weiner and his constituents whether he remains in office.
On Saturday, Mr Weiner said he would take a leave of absence from the House of Representatives to seek professional treatment.
A statement from Mr Weiner's spokeswoman, Risa Heller, said he will seek professional treatment and will focus on "becoming a better husband and healthier person".
Rumours of Mr Weiner's dalliance came to light at the end of May, when he accidentally released on his public Twitter feed a photograph of his underpants-clad crotch.
For several days Mr Weiner insisted the account had been hacked, but last week he admitted the photo was of his own body and he had intended to send it privately to a university student in Washington state.
Mr Weiner also admitted sending photos "of an explicit nature" to six women in the past three years.
Mr Weiner had been regarded as a rising star in the Democratic Party and a strong candidate for New York City mayor.