US election 2012: Jon Huntsman to join Republican field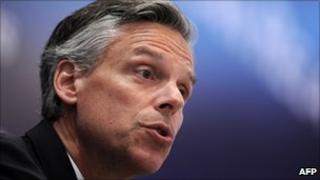 The former US ambassador to China, Jon Huntsman, has become the latest Republican to begin competing for the 2012 presidential nomination.
Mr Huntsman plans to make a formal announcement on 21 June that he is joining the field of hopefuls hoping to oust Democratic President Barack Obama.
The former ambassador, who has also served as the governor of Utah, is being seen as a long-shot candidate.
But analysts have said his economic policies may appeal to conservatives.
"I intend to announce my candidacy for the presidency of the United States of America a week from today," Mr Huntsman said on Tuesday, during a meeting in New York with former Secretary of State Henry Kissinger.
Mr Huntsman has little name recognition, and some analysts say his appeal to Republicans may be affected because he served under President Obama as ambassador in Beijing.
The former ambassador harshly criticised Mr Obama's economic track record on Monday, saying the US was in "bad shape" because of out-of-control federal spending and increased amounts of debt.
Mr Huntsman's move came one day after seven Republican presidential hopefuls attacked Mr Obama's economic record in the first major debate of the 2012 campaign.
Former Massachusetts Governor Mitt Romney appears to be the Republican party's early front-runner.