Wisconsin Supreme Court upholds anti-union bill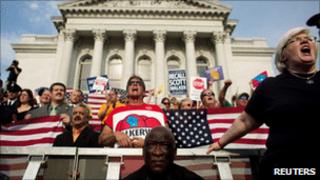 The Wisconsin Supreme Court has upheld a law stripping most public employees' collective bargaining rights.
In a 4-3 decision, the court ruled a lower court judge had improperly interfered in the legislative process when she overturned the law.
In May, Judge Maryann Sumi ruled that Republicans violated open meetings laws in their haste to pass the bill.
Republicans said the bill was needed to cut public spending. Democrats said it was an attack on pro-Democratic unions.
'Affront to democracy'
In a statement, Wisconsin's Republican Governor Scott Walker, who strongly backed the bill, said: "The Supreme Court's ruling provides our state the opportunity to move forward together and focus on getting Wisconsin working again."
But Phil Neuenfeldt, president of the Wisconsin State AFL-CIO, a major union, called the Supreme Court's decision "an affront to our democracy."
The law, which also requires state government employees to pay more for their healthcare and pensions, was proposed in the winter by the newly elected Mr Walker.
He said it would give local governments more flexibility to close budget gaps.
The bill ignited weeks of furious protests by tens of thousands of government workers and their supporters.
They said the bill was an attack on their livelihoods and on the unions, which tend to back Democrats in elections.
'Open meetings violation'
When the time came for a vote on the bill, state Senate Democrats fled in order to deny the Republican-controlled body a quorum in the chamber.
However, in March Republicans were able to circumvent that effort using a procedural move.
After Mr Walker signed the bill into law, though, Dane County's district attorney alleged that Republicans met to pass the bill without the 24-hour notice required by Wisconsin's open meetings law.
Judge Sumi of Dane County agreed.
However, the state Supreme Court on Tuesday overturned her ruling and upheld the law, finding Judge Sumi "usurped" the state's legislative body.
The court also rejected arguments Republicans had violated open meetings law.
"The doors of the Senate and Assembly were kept open to the press and members of the public," the Supreme Court said. "Access was not denied."
Meanwhile, voters have launched efforts to recall several of Wisconsin's state senators in retaliation for their votes - both in favour of the bill and against it.