US Airways 'stowaway' mechanic arrested in Pittsburgh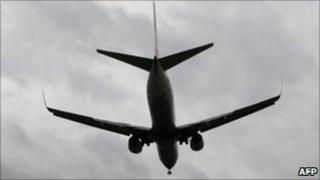 A US Airways mechanic has been arrested after allegedly stowing away on a flight from Florida to North Carolina, investigators have said.
The man, who has not been named, allegedly tucked himself away near the tail of a Boeing 737, reports said.
He was apparently seen leaving the hold when the plane landed at Charlotte.
The mechanic allegedly went into the terminal, where police said he used a US Airways employee ticket to board a second flight.
Allegheny County police Superintendent Charles Moffatt told the Pittsburgh Tribune-Review newspaper the employee was arrested shortly before noon on Tuesday, after landing in Pittsburgh.
US Airways officials confirmed they were aware of the arrest but gave no further details.
The incident comes about six months after a 16-year-old boy died after stowing away in the landing gear of a Boston-bound US Airways flight in Charlotte.