Osama Bin Laden: US drops embassy bomb terror charges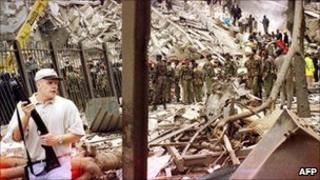 US prosecutors have asked a judge to drop terrorism charges against Osama Bin Laden, arguing his killing by US forces last month voids the case.
Bin Laden was indicted in federal court in 1998 in connection with the bombings of US embassies in Kenya and Tanzania, which killed 224 people in August 1998.
In court filings, officials said DNA and facial-recognition technology enabled the US to identify his body.
The al-Qaeda chief was killed in May in a US raid on his home in Pakistan.
Genetic match
In a court filing in New York City, federal prosecutors revealed new details about the process used to identify Bin Laden's body after he was shot dead in a night-time raid in Abbottabad, Pakistan.
According to the filings, following a firefight the US Navy Seal special forces team collected DNA samples from the body presumed to be Bin Laden's and transported them to a US military base in Afghanistan.
There, military and CIA technicians matched the sample with DNA collected from "multiple members" of Bin Laden's family.
George Toscas, a counter-terrorism and counter-espionage official in the US justice department, wrote in a filing that the possibility of a mistaken identification stemming from the DNA tests was "approximately one in 11.8 quadrillion".
The US used facial recognition technology comparing facial bone structure, age spots, hair-growth patterns, and the size, shape and relative position of the eyes, ears and nose to known photographs of the al-Qaeda chief, Mr Toscas wrote.
One of Bin Laden's wives, who was present on the third floor of the compound when he was killed, also confirmed his identity.
And finally, Bin Laden's purported successor as al-Qaeda leader, Ayman al-Zawahiri, acknowledged he was dead in a recent video address to supporters, prosecutors said.