'Barefoot bandit' Colton Harris-Moore pleads guilty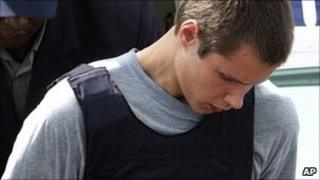 A US man dubbed the "Barefoot Bandit" for a string of robberies, thefts and assaults he committed as a teenager has pleaded guilty at his trial in Seattle.
Colton Harris-Moore gained cult status during his two years on the run, during which he stole cars and light aircraft to keep ahead of police.
He was finally arrested in the Bahamas in 2010 and deported to the US.
In addition to a jail term, the 20-year-old will forfeit any future earnings from selling his story.
Footprints left at some of the crime scenes indicated Harris-Moore had removed his shoes, earning him his nickname.
He will be sentenced in October but is expected to serve between five- and six-and-a-half years.
"The many years of Mr Harris-Moore avoiding responsibility for his criminal conduct have come to an end," said US Attorney Jenny Durkan in a statement at Friday's hearing.
"We have ensured he will not profit from his crimes, and that his victims will be compensated to the greatest extent possible.
"While we cannot stop him from telling his story, we can make sure he never sees a dime for his crimes."
'Armed and dangerous'
Harris-Moore's crime wave began in 2008, after he absconded from a halfway house in Seattle where he had been placed following previous run-ins with the police.
The complaint against him said he had been the primary suspect in at least 65 investigations across Washington state, Oregon, Idaho, Indiana, Nebraska, and parts of Canada.
Charges included theft of cars, bank robbery, assaulting police officers and the repeated burglary of empty holiday homes from which he took food, electronic items and credit cards.
Despite not having a pilot's licence, Harris-Moore stole at least three planes, flying them across the country and eventually to the Bahamas, where he was arrested.
He became something of a folk hero for some, but the FBI said he should be considered "armed and dangerous" and placed a $10,000 (£6,000) bounty on his head.
The plea deal means that Harris-Moore will never be able to profit from any books or films made about his life, or to sell his story. All proceeds will be used to pay back $1.4m to his victims.
He still faces charges in several counties but his lawyer, John Henry Browne, said he hoped any further jail terms could run concurrently with the state sentence.
Mr Browne said his client was hoping to study engineering on leaving prison.