Leon Panetta confirmed by Senate as new Pentagon chief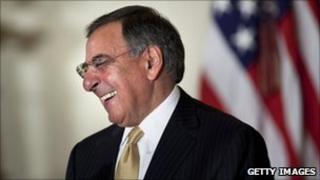 The US Senate has voted unanimously to approve the nomination of CIA chief Leon Panetta to succeed Robert Gates as US defence secretary.
Lawmakers voted 100-0 in favour of Mr Panetta, 72, who was the head of the CIA during the operation that led to the killing of Osama Bin Laden.
One of Mr Panetta's first jobs will be to oversee the start of the withdrawal of US troops from Afghanistan.
Mr Gates is retiring on 30 June after close to five years in the position.
Mr Panetta is expected to replace Mr Gates on 1 July, with General David Petraeus, the currently US commander in Afghanistan, taking over as CIA chief.
Mr Panetta, a Democrat from California, served as chief of staff to President Bill Clinton between 1994 and 1997 and took over at the CIA in February 2009.
On Wednesday, President Barack Obama is to deliver his plans for the withdrawal of US troops from Afghanistan.