Rodney King arrested 'driving under the influence'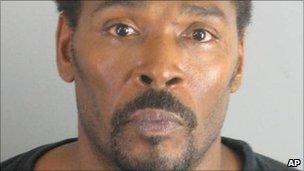 Rodney King, whose videotaped beating by police sparked riots in Los Angeles in 1992, has been arrested on suspicion of driving under the influence.
He was pulled over in Riverside County in California on Tuesday evening after police witnessed the 46-year-old committing "multiple infractions".
King told authorities he had a drinking problem, police said, but was bailed.
King, who was left with brain damage after the Los Angeles beating, has previous driving convictions.
He sued the city of Los Angeles 20 years ago and won $3.8m (£2.5m) in compensation.
King was taken into custody on Tuesday and was arrested and booked on suspicion of driving under the influence at the Robert Presley Detention Center in Southern California.
"A preliminary evaluation of the driver indicated he was possibly driving while impaired," a police statement said.
Police have not indicated what substance King was allegedly under the influence of at the time of his arrest.
In 1991 Rodney King became a symbol of police brutality after being beaten by four Los Angeles police officers, following a car chase.
The video of the beating, filmed by a nearby resident in San Fernando Valley, caused outrage in Los Angeles.
He was in his early 20s at the time of the beating and became an important figure in the subsequent trial of the four police officers.
After they were acquitted, rioting broke out in which more than 50 people died.