US ends search for Mexico capsize tourists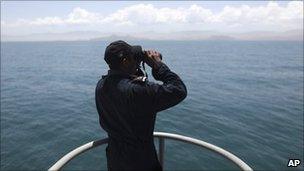 The US Coast Guard has called off a search for seven California sports fishermen whose boat capsized during a storm off the western coast of Mexico.
The men, who are now presumed dead, were among 43 people aboard a 155ft (47m) chartered boat, which went down in heavy conditions on 3 July.
Officials said the search covered more than 7,000 sq miles (18,129 sq km).
Thirty-five of the people aboard the boat swam to shore or were rescued.
The Coast Guard said it had used C-130 cargo planes and HH-60 Jayhawk helicopters to look for the seven men.
They set out on 2 July aboard the fishing boat, the Erik, from San Felipe on Mexico's Sea of Cortez.
"Despite the thorough search of the region by Mexican and US search teams, no signs of the missing men were found," Rear Admiral Joseph Castillo, commander of the US Coast Guard's 11th District, said in a statement.
Mexican police recovered the body of one passenger earlier this month shortly after the boat capsized.