US airports still vulnerable to attacks, says lawmaker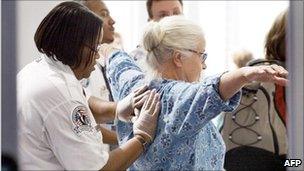 More than 25,000 security breaches have occurred at US airports since November 2001, a congressional panel has heard.
Jason Chaffetz cited government figures showing the airports were still vulnerable to terror attacks, despite billions invested in security.
Some 6,000 passengers and pieces of luggage breached security screening.
But the Transportation Security Administration (TSA) said the number of breaches represented a fraction of the 5.5bn people screened since 2001.
The TSA said the definition of a security breach was broad, and could represent a range of different situations.
Mr Chaffetz, chairman of a House of Representatives subcommittee, told the panel that more than 14,000 people were able to access sensitive areas of US airports since 2001.
Some 6,000 passengers and pieces of carry-on luggage were able to make it past government checkpoints without proper scrutiny.
Mr Chaffetz, a Republican lawmaker from Utah, spoke during the opening of a hearing on airport perimeter security.
Director of Aviation at Charlotte Douglas International Airport TJ Orr told the committee that the TSA was compromised by a "rigid attitude of arrogance and bureaucracy".
In a statement, the TSA insisted that the statistics "represent a tiny fraction of 1%" of the five billion passengers who have been screened at the nation's airports since 2001.
"We take every security incident seriously and take appropriate action accordingly which is why TSA keeps close track of all 'breaches'," the statement said.
"Airports today are safer than ever before," it added.
The security breaches being debated include instances of passengers misplacing bags after they went through security screenings or travellers unknowingly wandering into secure areas at airports, a US security official told the BBC.
The official added that it was "important for people to understand the context" of the figures.
The row over security breaches comes during a blossoming summer travel season.
The TSA has received criticism for new screening techniques during the past year, which include full-body scanners and "pat-downs" for those opting out of scans.
The transportation agency has said it has taken appropriate measures considering the persistence of those seeking to carry out terror attacks using commercial aviation.
Meanwhile, the Department of Homeland Security issued a memo last week to security officials alerting them to the potential threat of militants surgically implanting explosives in order to get through security screenings.
Related Internet Links
The BBC is not responsible for the content of external sites.