US and Russia agree on rules to make adoptions safer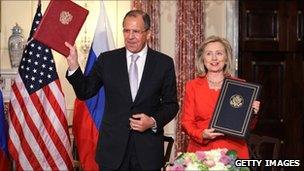 Russia and the United States have agreed principles to make adoptions between the two countries safer.
Under the accord, adoption agencies will have to be approved by Moscow, while the authorities will be required to provide more information about the children's backgrounds.
Russia has been complaining for years about children being abused in the US.
Last year, there was outrage after a seven-year-old adopted boy was sent back from the US alone on a flight.
His adoptive American mother had left a note with him saying he had been violent and that she could not look after him.
Russia threatened to suspend adoptions after the incident.
The guidelines, which are not retroactive, will mean adoption agencies can operate in Russia only with the authorisation of the government, except when children are adopted by biological relatives.
The agreement also requests agencies to provide more information about a child's social and medical histories to prospective parents.
At a ceremony in Washington with Russian Foreign Minister Sergey Lavrov, US Secretary of State Hillary Rodham Clinton said the agreement provided "new, important safeguards" to protect adopted children.
"We take very seriously the safety and security of children that are adopted by American parents," Mrs Clinton told reporters.
The accord "also increases transparency for all parties involved in the adoption process", she said.
The number of Russian children adopted by US families has fallen steadily, with 1,092 last year, compared to more than 5,800 in 2004, according to AP news agency.
Russian officials have claimed that at least 17 adopted Russian children have died in domestic violence in American families.
Chuck Johnson, chief executive of the National Council for Adoption, told AP news agency that many of the cases of abuse involved children adopted through independent agencies rather than US agencies accredited by Russia.
"For the Russians, their big get is that they will now be able to maintain some type of contact with the child," Mr Johnson said. "That's not been possible in the past... They had no mechanism to deal with cases where there are problems."
Russian orphanages house some 250,000 children.