Roger Clemens trial: Judge declares mistrial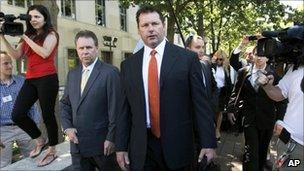 The trial of baseball star Roger Clemens for perjury has collapsed after prosecutors showed jurors previously excluded evidence.
Declaring a mistrial, District Judge Reggie Walton said Mr Clemens could not be assured a fair trial after the evidence was shown.
Mr Clemens was indicted last year for allegedly lying to Congress about using performance-enhancing drugs.
A hearing to determine whether to hold a new trial is set for 2 September.
Speaking at a federal courthouse in Washington, Mr Walton told jurors he was sorry to call off the case after Steven Durham offered evidence that appeared to bolster the credibility of a future witness, former New York Yankee team-mate Andy Pettitte.
One of the most important pieces of evidence against Mr Clemens is testimony from Mr Pettitte, who has said Mr Clemens told him in 1999 and 2000 that he used human growth hormone.
"There are rules that we play by and those rules are designed to make sure both sides receive a fair trial," Mr Walton said.
Prosecutors suggested the problem could be fixed with an instruction to the jury to disregard the evidence, but Mr Walton turned down the idea.
In 2010, Mr Clemens' former trainer told a House of Representatives committee that he injected the baseball star with the drugs between 1998 and 2001.
Roger Clemens was named the sport's best pitcher seven times.
Related Internet Links
The BBC is not responsible for the content of external sites.