Is the US government at war with whistleblowers?
By Tom Burridge
BBC News, Washington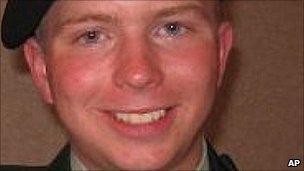 The Obama administration is facing criticism for prosecutions brought under the US Espionage Act against government employees accused of leaking sensitive information. Some accuse the US government of over-reacting, following the release of files by Wikileaks.
When Steve Rosen spotted two men walking up his drive early one morning in August 2004, he thought they were evangelicals from a local church.
In fact, they were FBI agents who had come to his home in the US state of Maryland to inform him he was being prosecuted for receiving and passing on classified information.
''You could have knocked me over with a feather," Mr Rosen said. ''I hadn't the remotest clue what they were talking about.''
At the time he was working for the American Israel Public Affairs Committee (Aipac), a powerful Washington DC-based pro-Israel lobbying group.
The FBI had been following him for five years and monitoring his conversations.
One of his sources, included in the charges against him, was Pentagon intelligence analyst Lawrence Franklin.
Five years later, the Department of Justice's case against Steve Rosen and his Aipac colleague and co-defendant Keith Weisman collapsed. The prosecution was unable to show they had criminal intent.
"If we had had a trial we would have been able to show in great detail what a sham this prosecution was," he said.
"They tried to criminalise innocent, constitutionally protected activity and it was very wrong what they did."
Mr Rosen's prosecution came under the Bush administration.
But Mark Feldstein, professor of media at the University of Maryland, sees a worrying trend of espionage prosecutions since President Obama took office.
"To everyone's surprise, the Obama administration has escalated the war against whistleblowers and the attacks on information that journalists and the public were depending on to get evidence of wrongdoing by powerful institutions and individuals," Prof Feldstein says.
'Vindictive and malicious'
On Friday, Thomas Drake, a former senior official at the National Security Agency, a highly secretive US spy agency, was sentenced to one year's probation, after the Department of Justice's case against him collapsed.
He had been accused of passing on information to a journalist about a government computer programme he considered wasteful.
After the government's case against him fell through, he pleaded guilty to a minor charge of overstepping his authorisation when using a government computer.
Outside court, Mr Drake said the government's prosecution had been "vindictive and malicious".
According his lawyer Jesselyn Radack, the charge that he passed on secret information was a ''bald-faced lie''.
Critics say the US classification system is often arbitrary, with documents often often stamped ''classified'' when the content is not secret or that sensitive. The system is now under review by the US government.
Last year Steven Kim, an employee with a US state department contractor, was accused of leaking top secret information about US policy toward North Korea to a journalist.
His lawyer, Abbe Lowell, says the information his client is accused of passing on wasn't eye-catching, let alone secret.
''The US government has a very legitimate interest in protecting the real national security secrets of our nation," Mr Lowell said.
"The problem is that so much information is improperly classified that you can't distinguish between the real national secrets and those that just have a stamp on it that says secret."
Even PJ Crowley, a former spokesman at the US state department says too much government information is classified.
In March, Mr Crowley resigned from the government after he publicly criticised the Pentagon for its treatment of Bradley Manning, a US soldier currently held in a military prison on charges he passed thousands of classified documents to Wikileaks.
Mr Crowley draws a strong distinction between Wikileaks, a website that has published tens of thousands of secret US diplomatic cables, and whistleblowing.
He believes Mr Assange's website irresponsibly published vast amounts of information and that much of it had no real purpose.
The whistleblowing issue is being discussed at the heart of the US government. In April Mr Obama held a meeting with several groups campaigning for greater transparency in government.
Danielle Brian, executive director of the Project on Government Oversight, attended the meeting and said she was had felt generally positive about Mr Obama's tone.
But she said that when she raised her concerns about prosecutions against potential whistleblowers, he leaned forward and told her he disagreed.
The Department of Justice said government employees concerned about national security policies have official channels for complaint available to them.
But campaigners for greater transparency in government worry that legitimate leaking by government officials may be one of the unintended victims of the Wikileaks case.
Prof Feldstein of the University of Maryland says it has ''stoked the government's paranoia on national security'' and empowered the Obama administration ''to feel more justified in going after whistleblowers.''
Related Internet Links
The BBC is not responsible for the content of external sites.