Alaskans smuggled walrus tusks and polar bear hides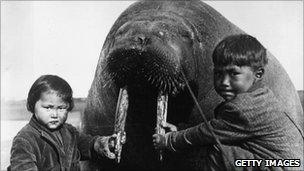 Two Alaskans have pleaded guilty to illegally trading the tusks of about 100 walruses with Eskimo hunters.
The pair were arrested in April with the ivory tusks, along with two polar bear hides.
They had swapped the animal parts with the hunters in exchange for money, guns, cigarettes and at least one snowmobile.
Indigenous Alaskans are allowed to hunt walruses but they are not permitted to sell the tusks.
The state prosecutor declined to comment on whether the hunters would also be charged, according to the Anchorage Daily News.
Prosecutors say this is Alaska's biggest wildlife trafficking case for nearly two decades.
A third defendant is expected to plead guilty to similar charges next week.
The three had obtained about 500 pounds (227kg) of walrus tusks from Yup'ik Eskimo hunters in the village of Savoonga, court documents say.
The pair pleaded guilty under a plea bargain and prosecutors have asked for prison terms of at least five years.
Two of the defendants asked for permission to get married before they are sentenced in November.
They fear that if they are not married, they will not be able to send letters to each other in separate prisons.
The judge said he would try to accommodate their request.
Related Internet Links
The BBC is not responsible for the content of external sites.