Australia may seize David Hicks's Guantanamo book cash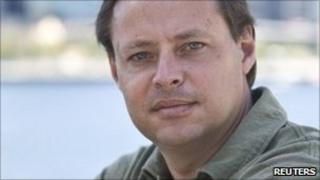 Australia has launched a legal bid to seize the profits from a book written by a former Guantanamo Bay detainee.
Legal officials say any money made by David Hicks from his memoirs should be regarded as the proceeds of crime.
Australian Hicks pleaded guilty to helping the Taliban at a US military hearing in 2007 and was sent back home to serve a nine-month sentence.
He received applause at the launch of his book recently, which caused huge controversy in Australia.
The former farmer, dubbed the Aussie Taliban, was captured in Afghanistan and spent almost six years at Guantanamo.
He published his book Guantanamo: My Journey last year - and it has reportedly sold 30,000 copies.
But the government confirmed on Wednesday that the director of public prosecutions had applied for a restraining order and a literary proceeds order.
The case is scheduled to be heard in the Supreme Court of New South Wales state on 3 August.
Supporters of Hicks say the government should not be pursuing him because his original conviction was not legitimate.
"David Hicks has not been convicted of a crime in Australia," human rights campaigner John Dowd said.
"He has not been convicted of an offence under United States law. There is no basis for removing any profits from the sale of his book."
But opposition politicians accused the government of being too slow to act, saying Hicks had clearly profited from his crime.
In his book, Hicks wrote that he admitted to a charge of helping terrorists only to escape Guantanamo Bay.