Charla Nash's new face revealed after US chimp attack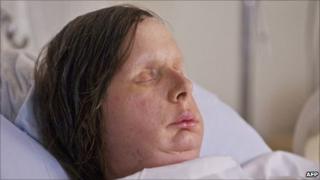 A picture of a US woman who underwent face-transplant surgery after being savaged by a chimpanzee in 2009 has been revealed for the first time.
Images of Charla Nash were aired on NBC's Today show and released by the hospital where she had surgery in May.
The 57-year-old lost her nose, lips, an eyelid and her hands when the animal, which was kept by a friend as a pet, attacked her. She was also left blind.
Ms Nash said she now looked forward to "things I once took for granted".
She did not appear on the NBC programme as relatives said she was too weak to do an interview.
Hands removed
But she said in Thursday's statement: "I will be able to smell. I will be able to eat normally. I will no longer be disfigured."
Ms Nash said she was excited at the prospect of being able to "kiss and hug loved ones" and was very grateful to the doctors at Brigham and Women's Hospital in Massachusetts, where the 20-hour operation took place.
Ms Nash had also been given two new hands but they later had to be removed due to complications.
She was attacked in February 2009 by a friend's 200lb (95kg) pet chimpanzee, known as Travis, for 12 minutes after the animal's owner asked Ms Nash to help bring it back inside her house in Connecticut.
The attack left Ms Nash without eyes and only a small opening where her mouth once was.