9/11: White House issues remembrance guidelines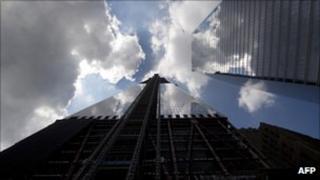 The White House has issued guidance to all US officials on how to mark the 10th anniversary of 9/11.
The plans call for a "positive" and "forward-looking" message with minimum reference to al-Qaeda, the New York Times reports.
Commemorations should honour victims of global terror, they say, as citizens of over 90 countries were killed.
The attacks were carried out by 19 hijackers seizing four planes, taking nearly 3,000 lives.
The hijacked aircraft crashed into both towers of the World Trade Center in New York City, as well as the Pentagon in Arlington, Virginia. The fourth aircraft crashed near Shanksville, Pennsylvania.
Both towers collapsed within two hours. There were no survivors of any of the flights.
'Service and Remembrance'
The White House guidance was issued in two documents: one single-sheet memo was circulated to all federal agencies and a second document was sent abroad to all embassies and consulates.
According to the New York Times, the guidelines are the result of lengthy discussions at the White House.
The plans reportedly placed emphasis on the theme of resilience, and warned of future attacks.
They also highlighted the steps taken to break up plots against the US since 9/11 and praised foreign allies in the fight against terror.
"We need to make sure we're speaking to a very broad set of audiences who will be affected by the anniversary," Benjamin J Rhodes, a deputy national security adviser told the New York Times.
The commemoration of the 10th anniversary of 11 September 2001 will be broadcast worldwide and is expected to be watched by many millions of viewers.
On Tuesday, US President Barack Obama reiterated his pledge to support the "9/11 generation" of veterans in a speech to the American Legion in Minneapolis, Minnesota.
"They were there, on duty, that September morning, having enlisted in a time of peace, but they instantly transitioned to a war-footing," Mr Obama said.
In his weekly address on Saturday, Mr Obama said that the 9/11 anniversary would be a day of "service and remembrance".