Captain of Niagara Falls retires after three decades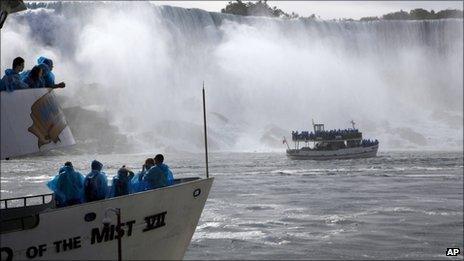 A senior Canadian captain who has guided passenger vessels to the foot of the Niagara Falls for more than three decades has retired.
Malcolm Bunting has shown more than 16 million people the breathtaking waterfalls over the course of 36 years on the Maid of the Mist vessels.
He is believed to be one of the longest-serving captains in the Maids' 165-year history.
He describes the journeys as "seat-of-the-pants navigation" each day.
"There's no automatic pilot here," Capt Bunting said, according to the Associated Press.
"It goes against all your common sense and seamanship," he added. "I can remember my first trip, thinking, 'What am I doing coming up this close?'."
He says it takes at least five years to get comfortable handling the boat near the fast-moving water with its eddies and rocks.
He charts the course of the boat to within 300ft (90m) of Niagara Falls, a wall of water rushing down 170ft (52m), and remembers when the first boats were wooden steamships.
The 63-year-old and his colleagues have had plenty of famous passengers.
"We've had Princess Diana, Prince Andrew and Sarah Ferguson, a lot of actors, actresses, Joan Rivers, Vincent Price, Roddy McDowell," Capt Bunting remembers.
Capt Bunting is believed to have made the 800-metre trip some 110,000 times, working eight months a year. Moving to Canada from England when he was four years old, he started working in a marina, before applying for the job of first mate in 1975.
He told the Toronto Globe and Mail that he was looking forward to losing his sea legs and planned to spend his retirement touring the country by motorcycle with his wife of 40 years.
Related Internet Links
The BBC is not responsible for the content of external sites.