Jamaica drug lord 'Dudus' Coke admits racketeering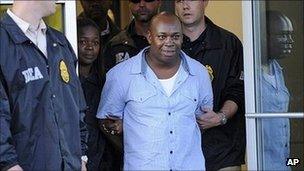 The Jamaican drug lord, Christopher "Dudus" Coke, has pleaded guilty to racketeering charges at a US federal district court in New York.
Coke, 42, also admitted conspiracy to commit assault with a dangerous weapon in aid of racketeering.
He is scheduled to be sentenced on 8 December, when he could face up to 23 years in prison.
A five-week operation to capture him in Jamaica's capital, Kingston, last year led to clashes in which scores died.
The US government said Coke was one of the world's most dangerous criminals, but his supporters said he was a community leader.
'Ruthless criminal enterprise'
In June 2010, Coke was extradited to the US. He said he had decided to face justice there in the interests of his family and country.
On Wednesday, he admitted that he had run a notorious Kingston-based criminal organisation, known as the Shower Posse and the Presidential Click, which had trafficked marijuana, cocaine and firearms.
"I also ordered the purchase of firearms and the importation of those firearms into Jamaica in furtherance of this conspiracy," he said.
Afterwards, US Attorney Preet Bharara said in a statement: "For nearly two decades, Christopher Coke led a ruthless criminal enterprise that used fear, force and intimidation to support its drug and arms trafficking 'businesses'. He moved drugs and guns between Jamaica and the United States with impunity."
"Today's plea is a welcome conclusion to this ugly chapter of criminal history," he added.
The pursuit of Coke by the US authorities shed light on the links between politicians and gang leaders in Jamaica.
Until last year Coke enjoyed substantial protection from the ruling Jamaican Labour Party and Prime Minister Bruce Golding.
Mr Golding's parliamentary constituency is in West Kingston's Tivoli Gardens district, which the Shower Posse controls.
When Coke was first indicted in the US in 2009, Mr Golding initially fought the extradition, arguing that it was based on flawed evidence.
But after months of delays and amid growing local and international criticism, he agreed to extradite Coke and signed an arrest warrant.
However, gunmen loyal to Coke in Tivoli Gardens barricaded the streets and mounted attacks against the police.
A state of emergency was declared and 76 people were killed in four days of gun battles, during which Coke was initially able to escape.
Security forces personnel were accused of using excessive force.