Floods worsen in eastern US after Tropical Storm Lee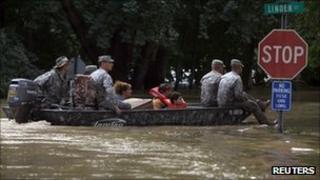 The Susquehanna River has reached record levels in Pennsylvania and New York, swollen by torrential rainfall from Tropical Storm Lee.
The president declared a state of emergency in both states, bringing federal aid to affected areas.
The river rose a record 42.6 feet (13m) in Wilkes-Barre, Pennsylvania, on Friday but later receded to 41.4 feet.
Flash flood warnings are still in effect for south-central Pennsylvania and have been issued for Maryland.
Tropical Storm Lee made landfall near New Orleans a week ago. It brought torrential rain to many areas as it swept north-east, killing at least seven people.
The storm prompted hundreds of thousands to leave their homes.
The Wilkes-Barre levee system withstood the cresting Susquhanna river, although much of the damage was concentrated in the surrounding areas.
A bridge partially collapsed, interstate highways were closed and water submerged low-lying homes in the wider area.
In Binghamton, New York, the river broke a record by spilling over retaining walls. Flooding closed a major highway near the city.
Some 20,000 people remain under evacuation orders in Binghamton.
Near Wilkes-Barre more than 75,000 people were told to leave.
Evacuation orders are expected to stay in place until Sunday or Monday.
Ninety miles down the river, crews put sandbags around the governor's mansion in Harrisburg, the capital of Pennsylvania.