Gunman alert ends at Arizona's Davis-Monthan Air Base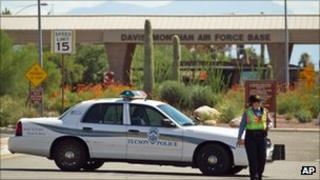 A security alert at a large air base in the US state of Arizona is over, after reports that an armed man had barricaded himself in a building.
The commander of the Davis-Monthan Air Force Base in Tucson said no gunman or weapons were found.
The base, in Tucson, went into lockdown over an unconfirmed sighting of an armed man entering a building.
FBI agents, armed police, bomb disposal experts and hostage negotiators were all called to the base over the alert.
Students were removed from two primary schools at the base.
The commander of Davis-Monthan, Col John Cherrie, said the base had been searched "floor-by-floor, room-by-room" and officials were satisfied it was safe, the Associated Press reported.
An ambulance leaving the base carrying a pregnant woman sparked unconfirmed reports in the local media that someone had been shot.