Amanda Knox supporters in Seattle celebrate release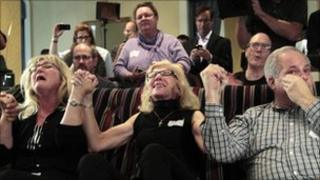 Friends and supporters of Amanda Knox hugged each other, cheered and cried as the 24-year-old former University of Washington student was cleared of murder by an Italian court.
About 20 of them had gathered at a Seattle hotel to watch the proceedings.
Flanking the big-screen television were three framed pictures - one of Knox, one of co-accused Raffaele Sollecito, and another of murder victim Meredith Kercher.
"This was a terrible miscarriage of justice and thank God it has been corrected," said Tom Wright, one of the leaders of a Seattle-based support group called Friends of Amanda.
"I'm aware that underlying all this was the tragic death of Meredith Kercher, but here we had a prosecutor who - by advancing a preposterous theory - has simply compounded her family's grief and brought about the unjust incarceration of two innocent young people."
Mr Wright, whose daughter was a school friend of Amanda Knox, said he felt a tremendous sense of joy and relief for Amanda Knox's family - all of whom, he said, had "suffered so much".
Dr Mark Waterbury, a scientist who has written a book about the DNA evidence in the case, was also delighted with the outcome.
He told me he believed there had never been never sufficient evidence to implicate Miss Knox.
And, referring to the Kercher family, he said he hoped that healing could begin all round: "I hope they [the Kerchers] recognise the true culprit is in prison and that they can somehow let go. Three families have been torn apart by this and it's time to let the healing process begin."
Keeping faith
The fate of Amanda Knox has galvanised people in this city.
Steve Shay, a reporter with the West Seattle Herald newspaper, first learned of Miss Knox's plight when he was sent to cover a fundraiser for her family.
After interviewing Knox's parents and her sister, as well as other people who knew her, he gradually went from passive observer to a campaigner for her release.
"The more I talked to her schoolteachers and her friends, the less likely it seemed to me that she was capable of doing what she was accused of doing.
"I couldn't find any evidence she was promiscuous or took drugs or was the sort who would break the law. The portrayal of her in the tabloid press just didn't add up.
"She struck me as a college kid who wanted to do what a lot of kids her age want to do - live abroad for a while, in her case in Italy.
"It's a rite of passage for kids who can afford it and it was her misfortune to get caught in the crossfire of a troubled judicial system."
Mr Shay admits not everyone in Seattle shares his view.
His newspaper has received its share of criticism for the supportive stance it has taken - and a few threatening emails as well.
And as time went by, some people who had initially supported Amanda Knox found that their faith in her innocence was tested: "Going on for four years I think some people started to wonder whether maybe there was something in it.
"I heard some people ask: 'Why would the Italian authorities embarrass themselves by holding the wrong person?' As for me, I never lost faith," Mr Shay added.
And neither did many other people here. Radio talk-show host Dori Monson told listeners to his phone-in show on Seattle-based KIRO FM that the majority of the calls and emails he had received had expressed support for Knox.
And when she returns to her home in the sleepy suburb of Arbor Heights, some of those supporters are planning a big party.
"She is an outstanding young woman and we will be glad to have her back in our community," Tom Wright told me.
There is also talk of a book, and possibly even a Hollywood film, based on her Italian ordeal.
America - and the world - has not heard the last of Amanda Knox.