Hawaii makes surfing a secondary school sport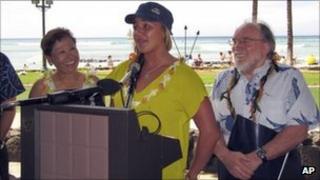 Hawaii is to become the first US state to offer surfing as an official secondary school competition sport.
Surfers from Hawaii's 46 state high schools will be able to represent their schools in competitions by spring 2013.
The plan is being privately funded, with $50,000 (£32,000) of the $150,000 cost of the first year secured so far.
Governor Neil Abercrombie said the Pacific islands state was surfing's "birthplace". "The sport is rooted in our culture and way of life," he said.
"It's quite clear, when you think of Hawaii, you think of surfing."
Governor Abercrombie announced the plan near a statue of Duke Kahanamoku - widely considered the father of modern surfing - on Waikiki Beach.
'Positive energy'
He was accompanied by current women's world surf champion Carissa Moore. The Hawaiian local, 18, this summer became the youngest woman to hold the surfing title.
Ms Moore said the sport had taught her life skills such as perseverance and news that it would be an extramural school sport was "awesome".
"Surfing and riding a wave is so much like life," she said. "You fall down over and over again, but you keep picking yourself back up until you ride one all the way to the beach."
Ms Moore said surfing was a way to "channel a lot of energy into something positive".
Education department spokesman Alex da Silva said there had been surf clubs in Hawaiian schools for about four years and it was a "natural transition" to offer school-sanctioned surf clubs.
"It also offers something motivational for those who don't participate in other sports, like football and volleyball," he said.
Board of Education member Keith Amemiya said the board was working with the state's education department to develop the structure of the sport in schools.
He said judging in the schools' competition would be similar to that in professional competitions. There would be individual boys' and girls' champions as well as team champions.
The board first approved surfing as a school competition sport in 2004 but safety concerns and funding issues delayed it from being fully sanctioned until now.
Governor Abercrombie said the state would make the plan work. "We're not looking at this in terms of if we don't have all the dollars, we're not going to do anything. Quite the opposite."