Rick Perry unveils jobs plan plan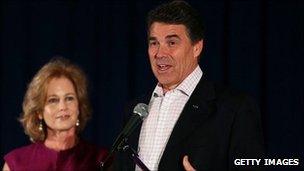 Texas Governor Rick Perry has attempted to shore up his White House campaign by unveiling a jobs-creation plan.
Speaking at a steel plant in Pennsylvania, he said his proposals to expand US oil and gas industry production could generate 1.2m jobs.
He also pledged to roll back federal regulations that he says curb growth.
Earlier he defended his wife on cable TV after she appeared to suggest that her husband had been "brutalised" because of his Christian faith.
Mr Perry became the frontrunner after he entered the race in August, but his poll ratings have flagged after shaky debate performances and campaign distractions.
He is set to deliver the second part of his economic plan in the coming weeks. He is expected to address the US budget deficit, tax and entitlement reform.
Mr Perry said on Friday that if elected he would use his first 100 days in office to issue a series of executive orders to eliminate government regulations and open up more areas for oil and gas exploration.
In particular, Mr Perry told supporters, he would stop the Environmental Protection Agency's programmes to limit carbon dioxide emissions.
"We are standing atop the next American economic boom - energy," Mr Perry said in Pittsburgh.
"The quickest way to give our economy a shot in the arm is to deploy American ingenuity to tap American energy.
"But we can only do that if environmental bureaucrats are told to stand down."
Mr Perry cited the Gulf of Mexico, Alaska and the mid-Atlantic, and the seas off Alaska as areas he would open up for exploration.
He said opening Alaska's Arctic National Wildlife Refuge for energy extraction could create up to 120,000 jobs.
On Thursday his wife, Anita Perry, admitted in a talk at a university in South Carolina that it had been a "rough month" on the campaign trail for her husband.
She said: "We are being brutalised by our opponents and our own party. So much of that is, I think they look at him because of his faith. He's the only true conservative."
Mr Perry told ABC News on Friday: "I'll stand by my wife. I think she's right on both cases."
The Texas governor is trailing former Massachusetts Governor Mitt Romney and businessman Herman Cain in the polls.
But Mr Perry has raised $17m (£11m) in campaign finances, which is expected to carry him through to the primaries of January next year.