Iran denies US meeting over Saudi ambassador plot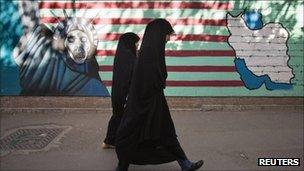 Iran has denied that government officials had direct contact with the US over allegations it plotted to kill the Saudi ambassador on US soil.
A US state department spokeswoman insisted the meeting had taken place.
The US alleges that two men with ties to Iran's elite security forces were part of the plot.
Iran has labelled the claims it was involved in the plot a fabrication, but US President Barack Obama says "facts are there for all to see".
Two men were charged in a New York federal court on Tuesday with conspiring to kill the Saudi envoy.
One of them Manssor Arbabsiar, 56, is an Iranian-American used car salesman who lived in Texas. He was arrested earlier this week while re-entering the US.
Alireza Miryousefi, a spokesman at Iran's UN mission, told Iranian media there was "no direct contact between the two countries".
The state department responded quickly to Iran's denial.
"It was two days ago. They know that very well, and any efforts on their part to deny it speaks again to how truthful they are about any of these sorts of matters," state department spokeswoman Victoria Nuland told reporters.
The US government is attempting to rally international support for sanctions against the Central Bank of Iran.
In addition, a team is being sent to Turkey to further explain the plot to officials there. Correspondents say the move is sign that Turkey maybe viewing the US and Saudi accusations with scepticism.
No Turkish official has publicly commented on the issue.
US authorities say Mr Arbabsiar wired $100,000 (£63,000) to a US bank account as a down payment for the assassination attempt, which he discussed with an informer posing as a Mexican drug gangster.
Since Tuesday's announcement, the US Treasury has since imposed sanctions on five men, including Mr Arbabsiar, and on Iran's second largest airline, Mahan Air.
Washington says Mahan Air secretly transported members of the Quds Force and Hezbollah across the Middle East.
Relations between Iran and the United States, already strained by Iran's disputed nuclear programme, have grown worse.
Washington and its allies fear the programme is aimed at making a nuclear bomb. Iran says it only wants to generate electricity.
Related Internet Links
The BBC is not responsible for the content of external sites.