Supreme Court to rule on Obama health care reform bill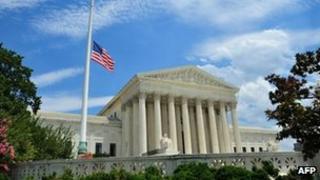 The US Supreme Court will hear arguments on the constitutionality of President Barack Obama's healthcare reform law, most likely in March 2012.
Opponents say the law's requirement for all Americans to buy health insurance is an overreach of the federal power.
The court will decide if that clause is illegal, and if so whether the entire law should be scrapped.
The White House said it welcomed the decision, adding it was "confident" the law was constitutional.
"We know the Affordable Care Act is constitutional and are confident the Supreme Court will agree," said White House Communications Director Dan Pfeiffer.
The court is expected to rule on the case by June 2012, only four months before the US presidential election.
Republican hopefuls have promised to repeal the law if elected.
The Affordable Care Act, which has become a divisive centrepiece of Barack Obama's term in office, was passed into law in 2010 after much debate.
The individual mandate clause will go into effect at the beginning of 2014.
Republicans have long argued the unconstitutional nature of the individual mandate, says the BBC's Paul Adams, but the Obama administration sees it as central to the wider healthcare law.
Long arguments
When it begins arguments in March, the Supreme Court will hear the administration's request to declare the entirety of the law constitutional, as well as two other legal questions.
The nine justices will also decide whether the entire law is invalid if the court deems the individual mandate unconstitutional, and how the law affects Medicaid, a public health program for low-income citizens.
The argument time planned for the back-to-back hearings are five-and-a half hours, the longest in modern Supreme Court history, a court spokesman said.
"The court recognised the seriousness of these vitally important constitutional challenges by allocating an extraordinary amount of time for oral argument," Florida Attorney General Pam Bondi, one of the petitioners, told the Associated Press.
In September, the 11th Circuit appeal court ruled that while the individual mandate was an overreach of congressional power, the rest of the law was constitutional.
Last week, a US appeal court in Washington upheld the constitutionality of the mandate, in a split decision with one conservative judge voting in favour.