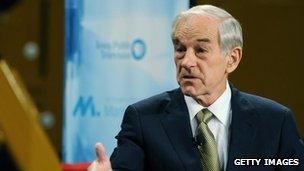 Texas Congressman Ron Paul's base of support was not large, but it was passionate, engaged, and ready to contribute to his campaign coffers.
In 2012, the firebrand anti-war libertarian embarked on his third run for the White House.
Unlike other candidates for the 2012 Republican nomination - Michele Bachmann, Rick Perry and Herman Cain - Dr Paul polled consistently in the middle of the pack, neither rising to challenge Mitt Romney's front-runner status nor bouncing along the bottom of the polls like Rick Santorum and Jon Huntsman.
Mr Paul gained 104 delegates during the primary season, mostly in caucus states, but did not win a state outright.
The 76-year-old former obstetrician-gynaecologist has been known for his strongly held opposition to the US Federal Reserve monetary system and US military engagement abroad.
Those positions - as well as his opposition to the war on drugs - have excited his followers but placed him at the fringe of the Republican Party.
Throughout his years in Congress - first in the late 1970s and early 1980s, and more recently since 1997 - Dr Paul has been known for his adherence to strict libertarian principles.
His commitment to limited government, low taxes and free markets has earned him the nickname Dr No, for his habit of voting against any legislation he sees as encroaching on those ideals.
He was one of the few Republicans in Congress to consistently oppose the war in Iraq on the grounds that the US should not entangle itself in the affairs of other nations or go to war without the approval of Congress.
In televised debates during the early campaign season, he publicly challenged his Republican rivals' strong talk on Iran's alleged nuclear weapons programme.
Born and raised in Pennsylvania, Dr Paul completed medical school and served as a flight surgeon in the US Air Force during the 1960s.
He moved to Texas in 1968 and, around his political career, worked there as an obstetrician for years, delivering more than 4,000 babies before largely retiring from medical practice in 1996. He is opposed to abortion.
He was first elected to the House in 1975, lost his re-election bid the following year, but won back his seat in 1978. He left the House in 1985.
After an unsuccessful bid for president on the Libertarian Party ticket in 1988, he was out of elected office until 1996, when he was re-elected to the US House.
In 2008, supporters of his presidential bid were known for disrupting rival candidates' rallies and press conferences.
Some of his backers also became known for espousing far-out conspiracy theories, such as the suggestion the US government was behind the 11 September 2001 terror attacks, tainting his movement in the eyes of many.
He and his wife, Carol, have five children and 17 grandchildren. His son Rand Paul, an ophthalmologist, is a US senator from Kentucky and a favourite of the Tea Party movement.
Related Internet Links
The BBC is not responsible for the content of external sites.